French Polo-ny = Solid all-round engineering gives the C3 Mk3 Germanic – rivalling competence.
The petite Citroen is the 3rd incarnation of the of the C3 I have driven. Firstly, was a frugal C3 Mk1 1.4 HDI turbodiesel manual, secondly by a grown-up C3 Mk2 1.4 normally aspirated petrol manual. Now thirdly, it's the turn of the funky C3 Mk3 1.2 turbo 3-cylinder petrol 6 speed auto. This bonbon has a lovely growl, very similar to the Peugeot 208 1.2 GT 3-cylinder petrol 6 speed auto it shares the engine and gearbox with.
Claimed fuel consumption is 7.20 l/km and it's got a 45l tank. The range after a fill up from fuel light to full which took 40 litres, showed 580 kms range on Sunday morning, which is just 45 kms short from claimed range.
Those 81 kws and 205 Newton Metres (from 1500rpm) of torque come in very handy and the car has spare shove all the time. The 6-speed dual clutch gearbox is super up and down (with gradient logic) and the only negative here is that the automatic shift gate is a bit awkward to get out of Park as it's like a staggered Mercedes style selector, but, covered by a leather boot. Having the gear selector pattern and selection lights in the face of the cupholders is not helpful unless they are sans contents.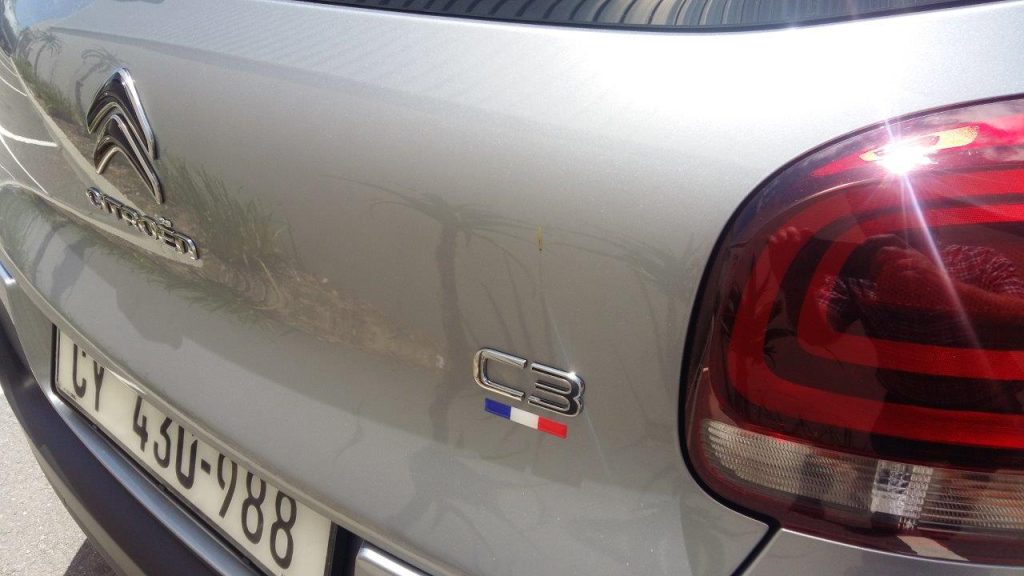 Space in all directions is good in front, a bit tight for the back seat but I fitted and was comfortable enough, but the 248l boot makes up for that acceptable rear space again. The boot lid has a very solid feel to it and closes with a healthy thunk!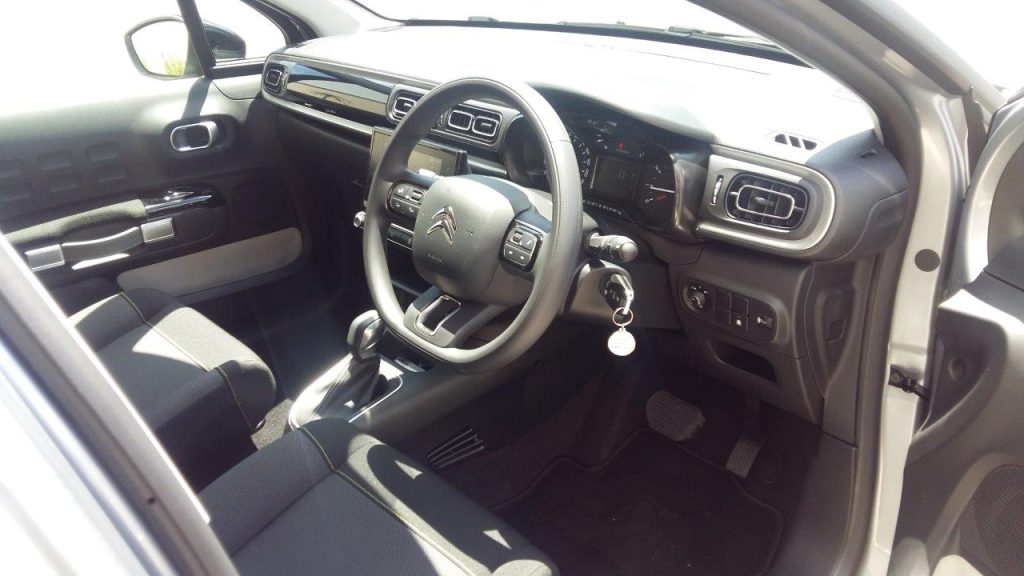 Controls are logical and clear, even the touch screen climate control system. No complaints about the auto lights, auto wipers, auto locking nor radio quality. Bluetooth was also very easy to connect to and set up.
The Citroen C3 was a sweet delight along the coastal road. The 1.2 T 3 cylinder and 6 speed dual-clutch never faltered even twice over Ou Kaapse Weg, seats so soft, ride firm but comfy even over bumpy bits by Cape Point and Kommetjie and all the features, including climate control appreciated! We saw just 1 other C3 cutey-pie amongst all the throngs of cars. a White one with white Air-bump bits just like the Oyster Silver test car.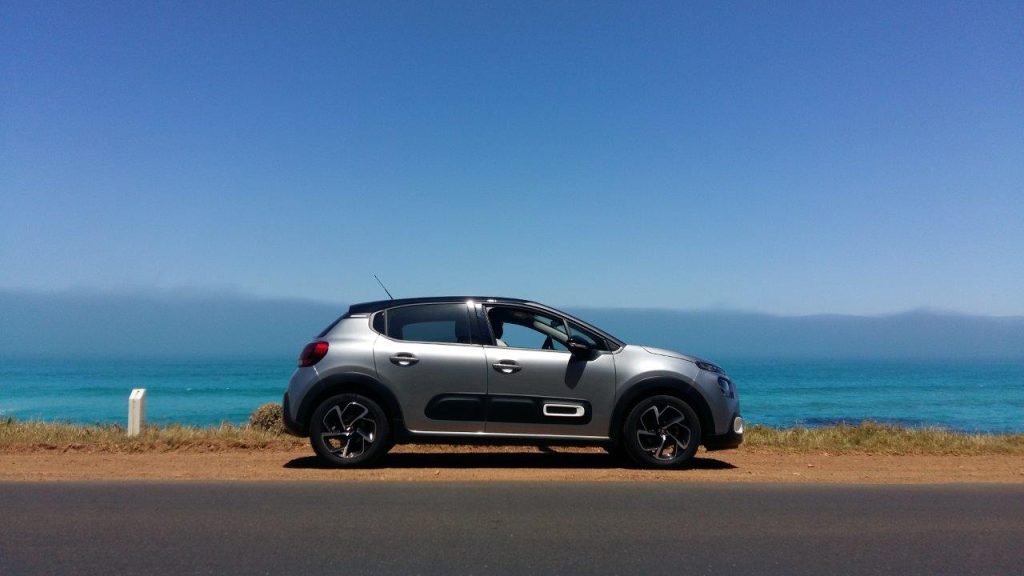 The styling is as delightfully quirky inside and out as I remember Citroens to be, the super seats are as soft as I remember too. Magic carpet ride is firmer as the other 2 macaroons (Mk1 and Mk2 C3's), which is a bit of a no-no for Citroens. And it's on patriotic Michelins, so cannot even blame another country for that!
The Citroen flavour has just been infused with some solid engineering now, hence the Germanic hint in the title of the review. French Polo-ny.
The new Citroen C3 is now proudly available with Hertz Rent A Car's group U car hire range!
---