Chinese vehicle brands are making serious inroads into the car rental market. Chery celebrated its first large fleet transaction, when it handed 100 Chery Tiggo 4 Pro models to Hertz Rent A Car.
At the hand-over, Chunqing Chen (Vice President of Chery International and Director of Chery South Africa), and Tony Liu (Executive Deputy General Manager of Chery South Africa) handed over the first set of keys to Hertz executives.
The transaction follows shortly after Chery created its dedicated Fleet Sales division with industry veteran Lazola Qungwana at the helm.
"We opened our doors earlier this year in response to the overwhelming interest in Chery vehicles, both from small and large corporate buyers. Our dedicated Fleet Sales team offers round the clock support to large fleet operators such as Hertz, and we are very excited to start our relationship with them," says Lazola.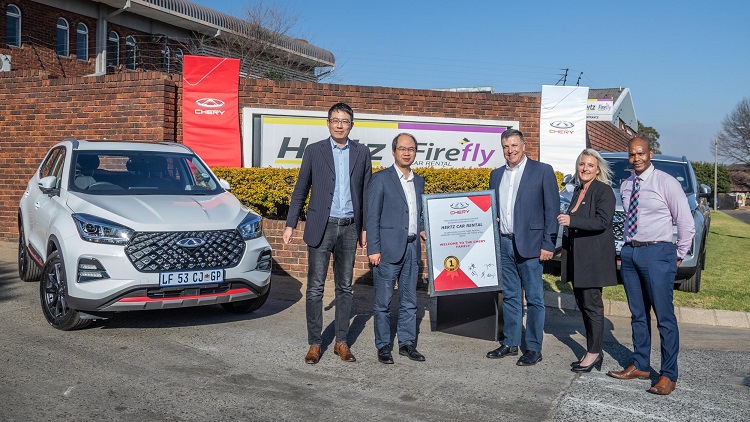 In dealing with Hertz Rent A Car, they highlighted Chery's exemplary service plan and mechanical warranty. The Tiggo 4 Pro was, after all, the first SUV in the Chery stable to offer a full 10-year or 1-million-kilometre engine warranty alongside the standard mechanical warranty and service plan.
Chery backs this unmatched warranty with its large new parts warehouse in Gauteng, from where it delivers all service and repair parts daily to dealers across South Africa.
As part of its service to vehicle rental fleets, Chery guarantees same-day servicing for vehicles that it receives before 14:00. It has also made special arrangements for weekend services and repairs on a Saturday with dealers.
Chery further guarantees the transport of any vehicle that needs attention to the nearest Chery dealer. For this support, Chery can count on its partnership with the Automobile Association and the many other suppliers in its network.
In the unlikely event that a service or repair part is not available, Chery will guarantee that the vehicle will not be stationary for more than five days, thus ensuring this highest possible operating time for each rental vehicle.
All hundred Chery Tiggo 4 Pro models in the Hertz fleet are the top-specification Tiggo 4 Pro Elite CVT models.
This range-topping model is equipped with Chery's award-winning 1.5 litre turbo-petrol engine that delivers 108 kW and 210 Nm of torque through the continuously variable transmission to the front wheels.
---